Get UNLIMITED RIDES for Jamaica Mystic Mountain with this package!
Buy your ticket for Mystic Mountain before we are sold out!! Book now this package of activities and enjoy unlimited rides for Bobsled, Anancy´s web rope course, Reggaerock Climbing Wall, Sky Explorer, Infinity Pool and Raggamuffin. The package also included 1 ride of Zipline and the possibility to buy the extra ride of electric ATV in the park (+5,000JMD). Ensure your fun by buying online before sold out as tickets are limited! Infants from 0 to 5 years old have free entrance and the activities included are Sky explorer and Infinity pool for them. Only for Residents of Jamaica. 
Package Details
Only for Residents of Jamaica. All you need to know about this amazing tour to discover the best of Mystic Mountain Jamaica.
SEE NATURE IN A NEW WAY
Enjoy the thrill and the full adrenaline sensation of the wild nature in Jamaica. experience three exciting activities on this one Mystic Mountain rainforest excursion package: the Sky Lift, the Bobsled, and the Zip Line through the tropical forest.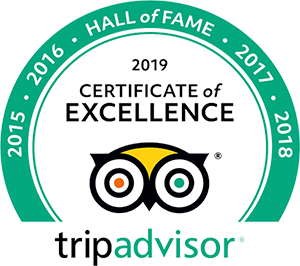 Certificate of Excellence 2019 Winner
"Our experience was beautiful from the enquire deck, to payment to Alex and team on the zip line. Warm and friendly staff, world class facilities and then the rides were awesome."
"The 15 minute ride on a chairlift through the jungle was great, felt very safe, our guide sat with my wife and I and he was quite engaging and informative. Nice gift shop and restaurant plus a bit of history displayed there as well."
"Our zipline guides were awesome and so much fun! It's a good price for all those activities. We stayed at Runaway Bay so it wasn't too far from us either. The tour guides made the zip lining – funny and helpful – plus the sights were beautiful"
"We rode the tram up, took a great ride on the Bobsled, ziplined down the mountain and then rode the tram back up and had a great lunch in their restaurant. The entertainment while waiting for the bobsled ride was fun and shopping was plentiful with good variety. Definitely worth the trip and would recommend to everyone. We booked through their website and got the dinner package which was a real bonus."
"We booked the trip through TUI and had an excellent day first the sky lift then bobsleigh and to finish it off we zip lined down the mountain with some great instructors . Really enjoyed it."
"We have been here many times. What a fun day!!! The restaurant is also very good. The view from the top is unbelievable! A must see and do!!"