Cruise
Friendly
Feel The
Adrenaline
Payment 100%
Secured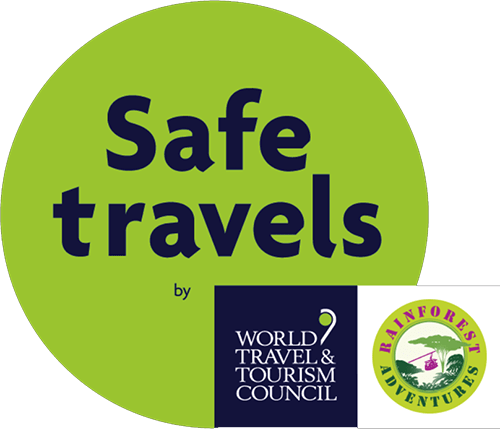 Overview
Starting from the base of the mountain, you'll get swept off your feet in every sense of the word as you glide up Mystic Mountain on the SkyExplorer Chairlift all the way to 700 ft. above sea level. You'll emerge from the lush jungle to views that will take your breath away. The sweeping coastline and town of Ocho Rios below offer fantastic photo opportunities along the way before you arrive at the top of the mountain ready to play the day away with rides, attractions, pool, dining and entertainment. You'll hop off right in front of the Mystic Pavilion, offering a journey into the heart of Jamaican culture.
A short walk away is the crown jewel of Mystic Mountain: the Bobsled Jamaica attraction. This signature ride features a gravity-driven plunge through 3280 feet of twists and turns on a specially designed sled evoking the glory of the 1988 and 1992 Jamaican Olympic Bobsled teams. The track for the Bobsled run was laid specifically to avoid disturbing the natural landscape; as such , the trail curves around ancient trees, hugs majestic cliff faces and limestone outcroppings looming over the shoreline, and ushers you through narrow chutes of dense rainforest. You control your own decent with an in-sled handbrake, allowing for either a leisurely tour through the forest or a pulse-quickening dive to the bottom of the mountain.
Once your Bobsled slides to a graceful stop, you are slowly raised back through the rainforest to the top of the mountain, completing the entire circuit in about 10 minutes. Then get ready for your next adventure the unique Ragga Ride, Have a seat, but don't get too used to having your feet on the ground! You'll sit in pairs in Ragga ride peacefully hanging chairs as you slowly glide up the mountain from the Pavilion. With your legs dangling above the ground, you'll reach the top and go boldly flying down the mountain on the overhead track high above Ocho Rios, veering through 14 turns, swinging out over the hanging cliffs. This gravity-assisted thrilling speed ride has four automatic braking zones so you can catch your breath to take in the epic panoramic views of the Caribbean Sea.
Then take flight through the tops of the trees on our Canopy Zipline courses, zooming from platform to platform down the mountain through the Jamaican rainforest. A fun ride with family and friends, this gravity-assisted adrenaline rush offers stunning views of the Caribbean Sea and the North Coast through the trees.
Anancy's Web invites everyone to climb, swing and scramble their way up three levels to the top of this 30 ft. aerial maze of ropes and wood at Mystic Mountain. Part jungle gym, part obstacle course, this fun family attraction is adjacent to a climbing wall for you to conquer.
Again at the peak, the Rainforest Sky Explorer waits to carry you down to the base
Tours Activities
Sky explorer
Bobsled
Raggamuffin
Zipline
anancy's web rope course
Regga rock
Infinity pool
Optional Services Available
lunch
transportation
Lockers
Recommended to Bring
Close-toe shoes (mandatory)
Towel
Swimsuit
Water Shoes
Sunscreen
Important Information
All children must be accompanied by an adult.
Guests are required to wear close-toed shoes.
Food and drinks are available at Mystic Dining.
Activities Requirements
Raggamuffin

Minimum Height Required: 42 Inches and Taller.

Electric ATV

All participants must be screened/assessed prior to operating the ATVs:

Driving licence needed to operate.
Maximum persons capacity per bike: 2.
Maximum weight capacity per bike: 330 lbs.
Minimum age limit to operate: 16 years old.
Minimum age limit to be copilot: 12 years old.

Zip Line

Receive an orientation, safety equipment and harness system for your flight through the canopy on a series of zip line cables and pulleys that are interconnected on both tree and land-based platforms.

Minimum age of 6 years old.
Maximum weight limit of 280 lbs (127 kilograms).

Regga Rock

Scale the heights of the 30 ft. of simulated rock face as you make your way to the top of the Reggae Rock climbing wall at Mystic Mountain! Get strapped into the harness and figure out the best way to navigate your way up while being guided safely from below.

This activity is perfectly suited for beginners or experienced climbers looking for a fun solo adventure or something cool to do with family and friends. The biggest challenge is to feel the fear and do it anyway!

Minimum age of 5 years old.
The minimum height limit of 46 inches.

Anancy's Web

art jungle gym, part rope obstacle course this family activity is as fascinating and as much fun as the mischievous Jamaican spider it is named after.

Kids and parents wear safety harnesses as they navigate this exciting outdoor rope course together with an inner circle course meant just for three to seven-year-olds. To one side a 30 ft. climbing wall invites you to conquer the mountain which boasts epic views.

Minimum age of 5 years old.
The minimum height limit of 46 inches.

Bobsled

Get ready for the best ride of your life on the thrilling bobsledding adventure in Jamaica. After an orientation, board our specially made bobsled and hold on as it plunges through 3280 feet of twists and turns down the mountain.
You'll be safely strapped into a custom-designed, high-tech sled and whooshed down a 1000-meter long track installed into the side of the mountain, completely driven by gravity: yes, Newton, it really works!

Minimum height required: 36 inches (91.5 cm).
Maximum weight limit of 300 lbs (136 kilograms).

Sky Explorer

Embark the Sky Lift for a fun ride up 700 feet through the tropical forest. Explore the Mystic Mountain treetops, have a magnificent view of the nearby Dunn's River Falls from up above.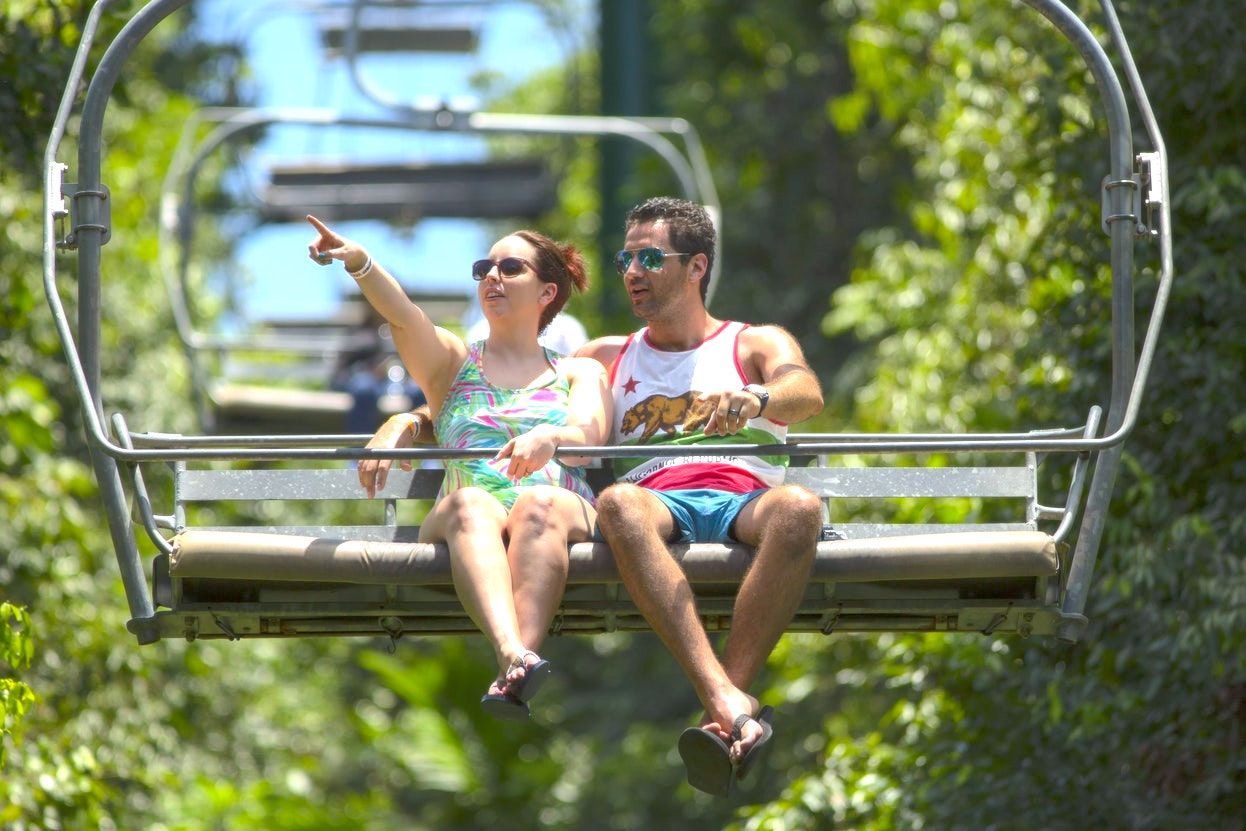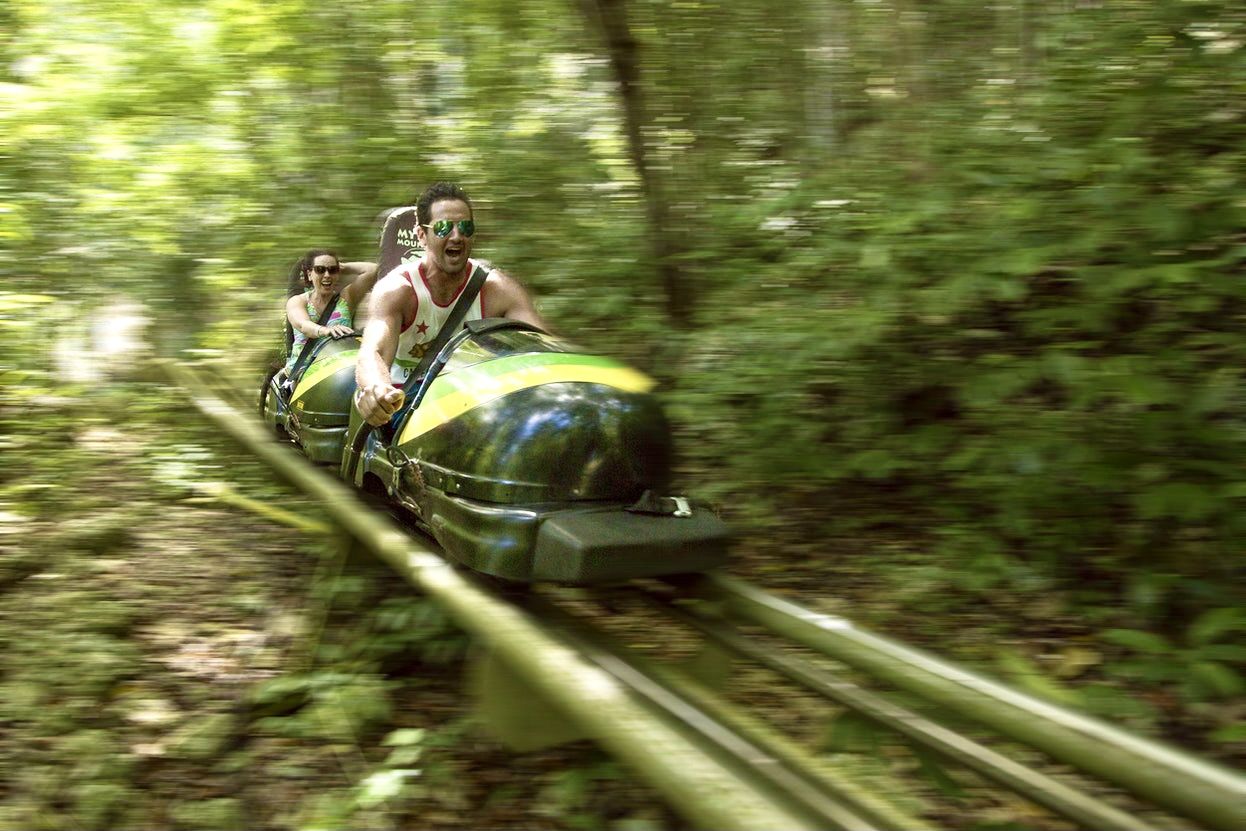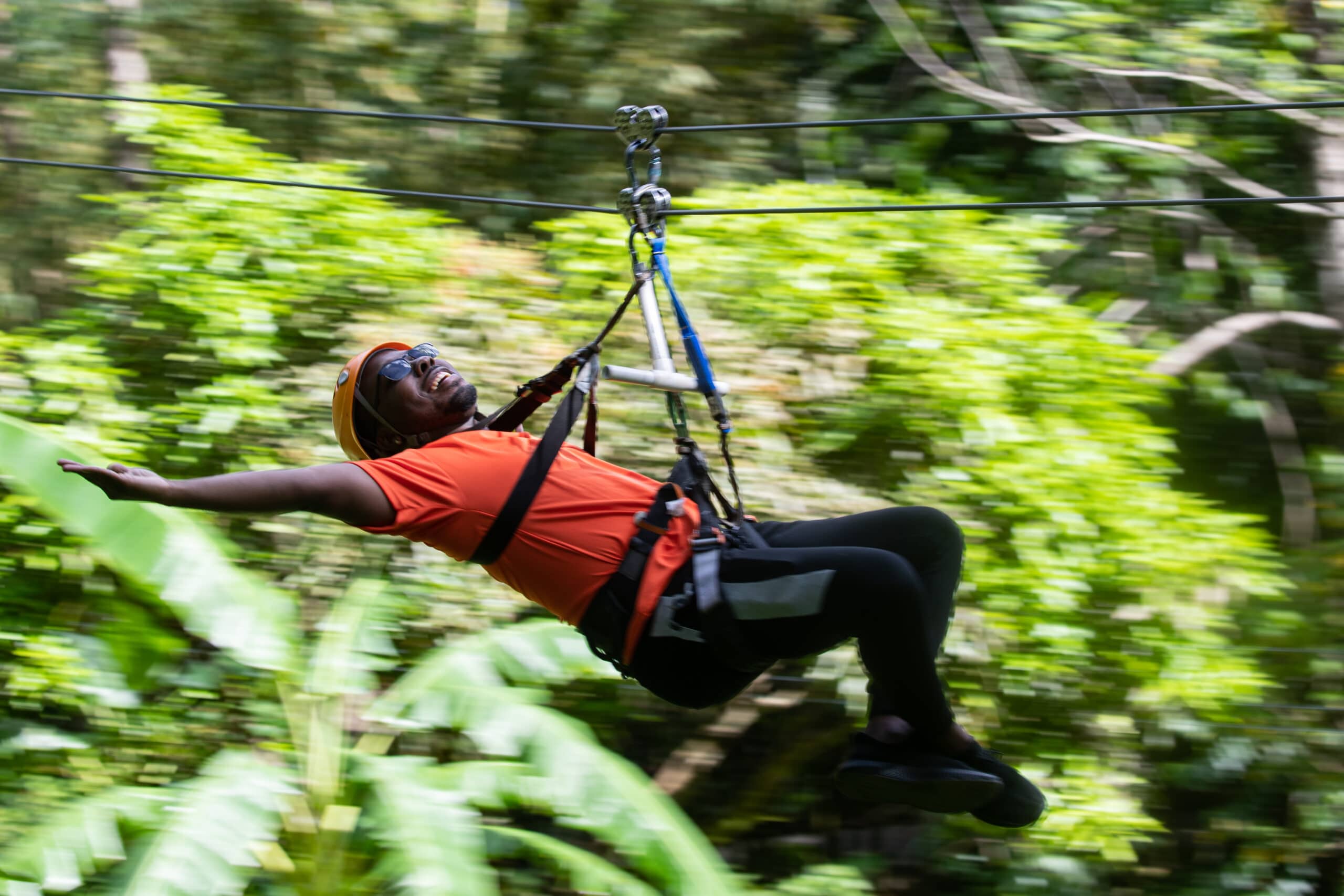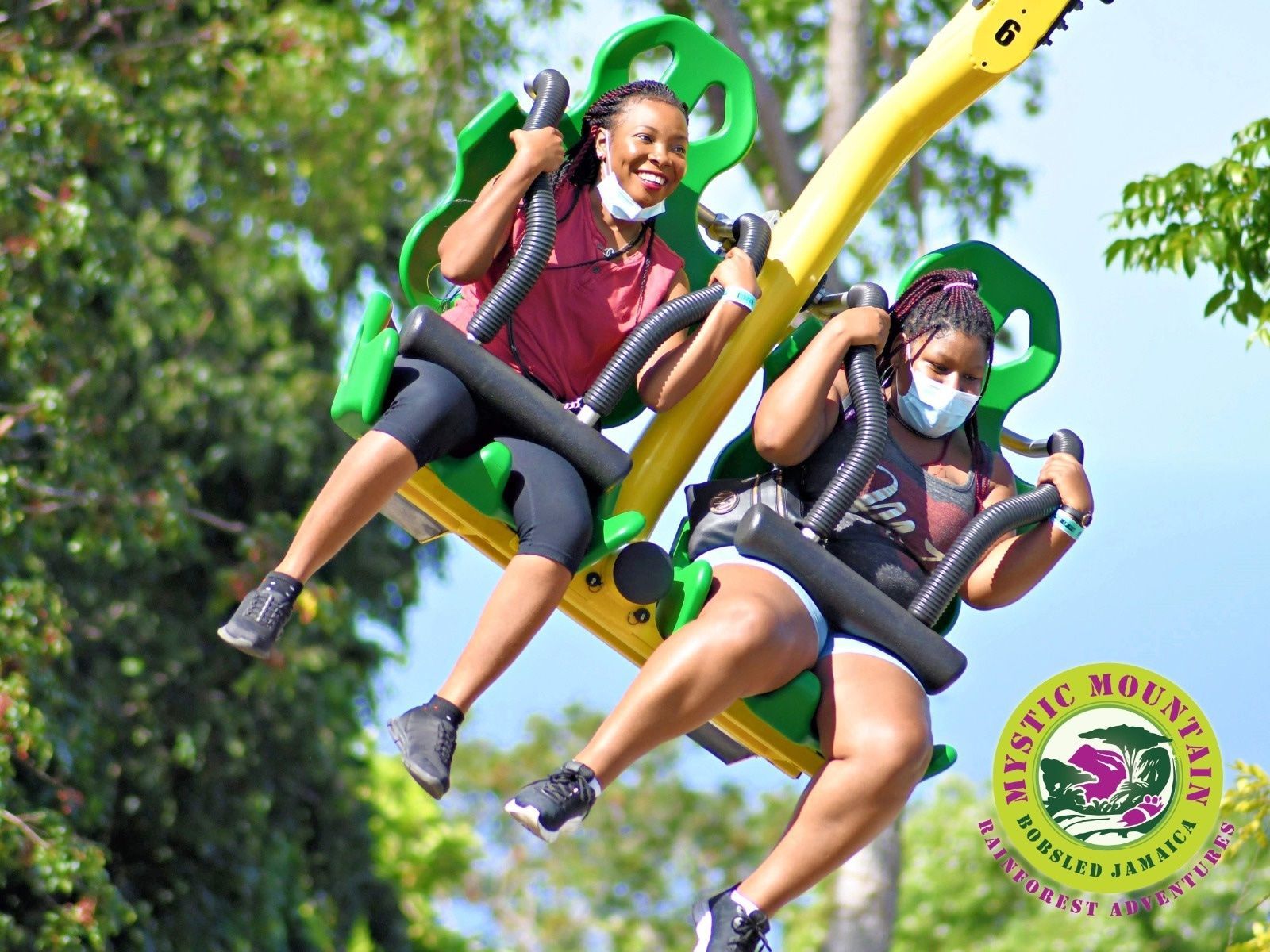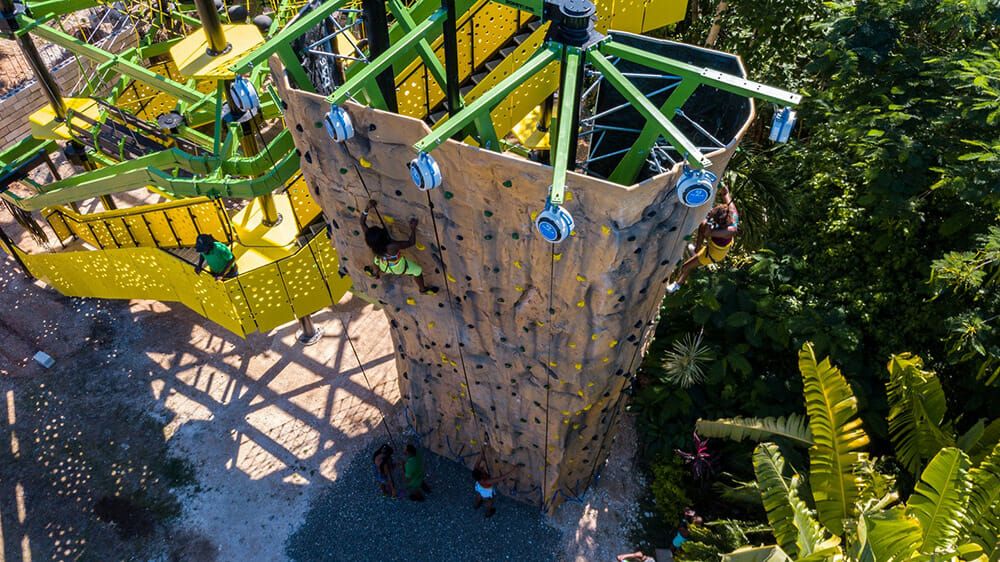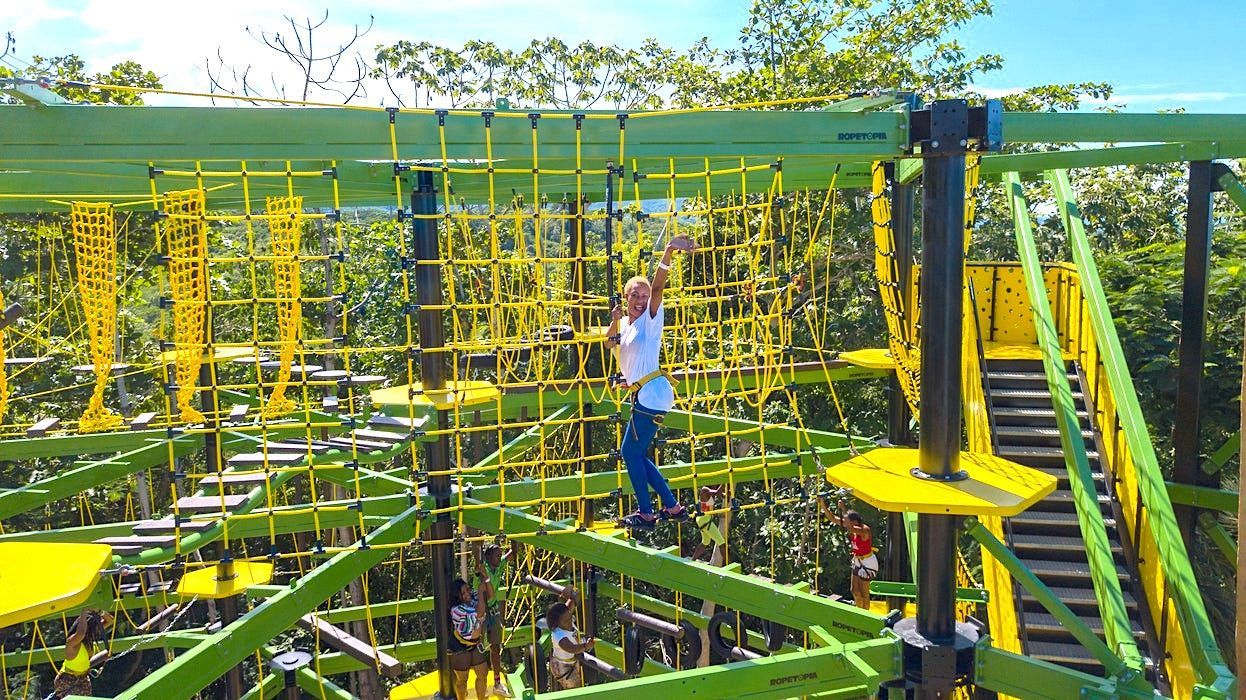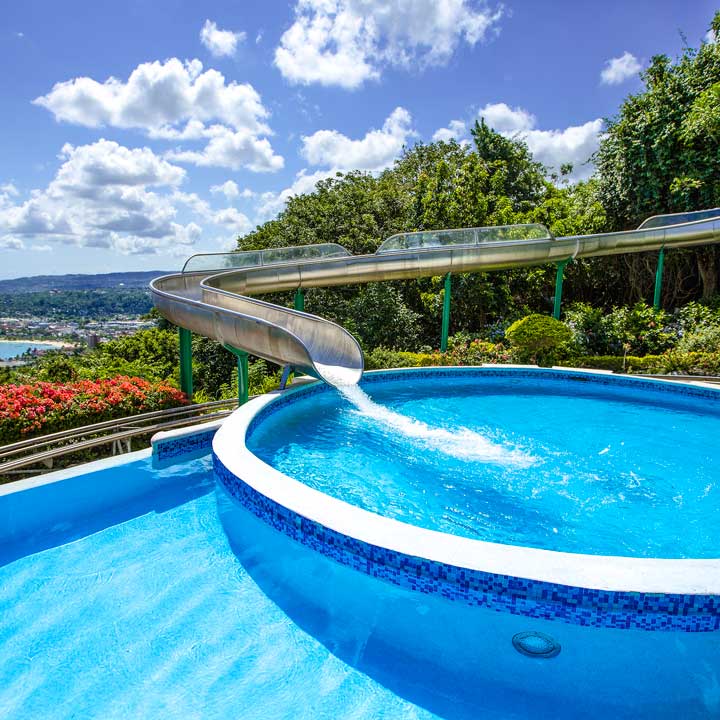 Last admission at 12pm for weekdays in October. Saturday and Sundays last admission at 2pm.
(schedule can be changed following Government restrictions)
Book Your Adventure
we are the official website.