SEE NATURE IN A NEW WAY
This tour is not for the faint of heart; for those people who really love the forest and want to explore deep within the Rainforest and to live in contact with nature. Get away from the routine and the city chaos by experimenting real adventure!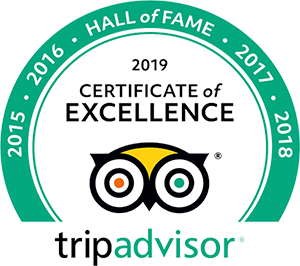 Certificate of Excellence 2019 Winner
Package Details
All you need to know about this amazing tour to discover the best of Costa Rica.
"Couldn't have asked for a better experience (…) in Costa Rica. Booked the canopy tour directly on their website (…) our guide was amazingly knowledgeable throughout the entire trip."
"A fun-filled, full day! Our tour guide was the BEST! Very friendly, informative (…) I have done other ziplines in Costa Rica and these are by far- THE BEST!"
"Fantastic tram, like a ski lift through the forest with knowledgeable, friendly guide. Lots of information about the plants and animals (…) Thanks, would definitely recommend"
"I think a good service is above many companies of its kind in Costa Rica. its staff is attentive to any queries and can guide in the best way, the facilities are adequate based on the activity and location. Excellent."
"It is a fantastic place that has a great cable car. A tour guided by an expert will explain every detail of the vegetation, fauna and as the journey progresses you can experience unique sensations that only this beautiful mountain can offer. For adventure lovers, the Canopy awaits you: 10 zip lines that would make you feel maximum adrenaline in the heights. The guided tour of the trail is another of the experiences offered by this beautiful place !! Parking quite comfortable, very friendly staff, unforgiving facilities."
"Excellent park where you can find countless species such as animals and vegetables, an experience that you must live at least once, and you can also stay one night to enjoy a night walk to observe all the biodiversity."