St Lucia is far from being just a destination to relax. In fact, this beautiful island of The Caribbean it's packed with many attractions, activities, and tours for all ages and budgets.
The possibilities are endless. You can visit a drive-through volcano and decide between lots of fun water sports and activities in the rainforest.
Of course, you will have the chance to gaze into the gorgeous scenery. But things to do in St Lucia it's also about hiking, biking, swimming, snorkeling, sailing, dancing and tasting delicious cuisine with an interesting mashup of Britain and French cuisine.
Check out these top rated attractions of St Lucia and make the best out of your vacation on this beautiful island:
Go Zip Lining on the Adrena-Line Canopy Tour: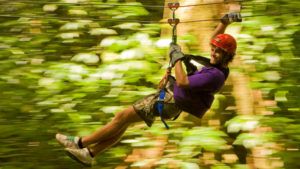 Experience adrenaline and excitement while you zip from platform to platform in the tree canopy tour that Rainforest Adventures offers for kids and adults.
This tour begins with a short walk through a peaceful part of the rainforest, and as soon as you arrive at the mountain, you'll get hitched up to a series of cables, and that's it! You can start right away to swing like Tarzan or Jane down the mountainside.
If you consider yourself an adventure seeker, this is one of the top attractions of St Lucia that you just can't miss.
Hike around the Pigeon Island: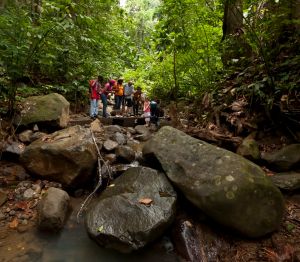 This national park is a great place to visit and explore historical sites like the ruins of old forts built in the 18th century, a museum, and an Interpretation Center with a brief history of the island.
You'll find moderate to difficult trails to hike, so this attraction is ideal for lovers of daring activities.
End your visit at one of the island's beaches and enjoy the tranquil waters of The Caribbean Sea.
Bathe in a Sulphur Spring: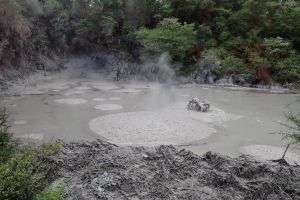 In St Lucia not only you can access to the only drive-in volcano, but you can also bathe in hot-water pools to detoxify and smooth your skin.
Experience a real mud-bath and then simply wash off under a nearby waterfall.
This is one of the top attractions in St Lucia for those who are looking to relax and have a once-in-a-lifetime experience.
Climb the Gros Piton: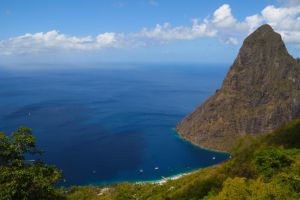 If you're going to St Lucia, you just can't miss the opportunity to visit this World Heritage Site, the Gros Piton.
This is one of the two mountains of the country that you can climb all the way to the top and get breathtaking views, scenery and a great feeling of accomplishment, all in one activity that takes only a few hours.
To access the Pitons you'll need permission from the Forestry Department and a guide, who will lead you safely along the trail while explaining some interesting local history.
Bird watching tour: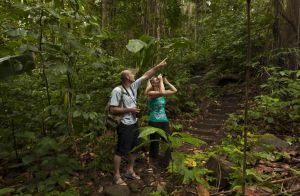 St Lucia is home to so many endemic species and some of the most fascinating birds of the region, like the tropical hummingbird and the migratory kestrel.
Rainforest Adventures offers a tour that will take you up to 300m for stunning views and birdwatching more than 30 species of the forest. You'll be accompanied by an experienced nature interpreter that'll guide you through the forest pointing out signature calls and keeping eyes wide open so you get to see even the most elusive birds.
Birdwatching is one of the attractions of St Lucia that's designed to engage everyone from the serious birder to the casual enthusiast. Just take note that the hiking to see the birds is moderate in difficulty.
As you can see, St Lucia has a lot to offer. So, there's no need to spend all your time on the beach. Check out these other amazing things to do in St. Lucia so you get more options for every day of your visit.
Also, on our Instagram (@rainforestadventure) you can see first hand how awesome your day will be at one of our 5 locations. Follow us and share the pictures of your trip with us!

Rainforest Adventures creates unique and memorable adventures that inspire a sustainable use of the environment and appreciation of the local culture while making a positive impact on our communities. Featuring locations in the coolest destinations in Central America and the Caribbean