If you are looking for where in Costa Rica to vacation in this article we hope that you find great ideas! Costa Rica's slogan is not only words put together eloquently, but it is also a way of life. The phrase "Pura Vida" or pure life represents how Ticos are relaxed and carefree. Then again, there's not much to worry about when you live in paradise. Here are 10 things you need to do when vacationing in Costa Rica!

Surf the best waves in Latin America 
Santa Teresa is a beach town 150 Km west of San Jose is a beautiful location you must visit! Learn how to surf the best waves in all of Latin America and find mindfulness with some yoga in the sand. A fantastic place for your vacations in Costa Rica!

Rappel down waterfalls

From the bean to the cup 
Coffee grows best in high places such as Monteverde where they offer mindblowing tours. You can learn about the entire process that goes into preparing one cup of coffee. The best month to enjoy these tours is definitely October. You'll be able to taste Costa Rica's best coffee. 

Beach and Rainforest on Kayak
Tortuguero National Park is most famous for being a nesting place for turtles. It is also made up of canals that lead right to the heart of the Costa Rican Rainforest. Kayaking gives you the ability to explore places without disrupting wildlife. You'll be able to enjoy the fauna and flora like never before!  A place that cannot be missing on your list of where in Costa Rica for vacations.

Go Hiking on a Volcano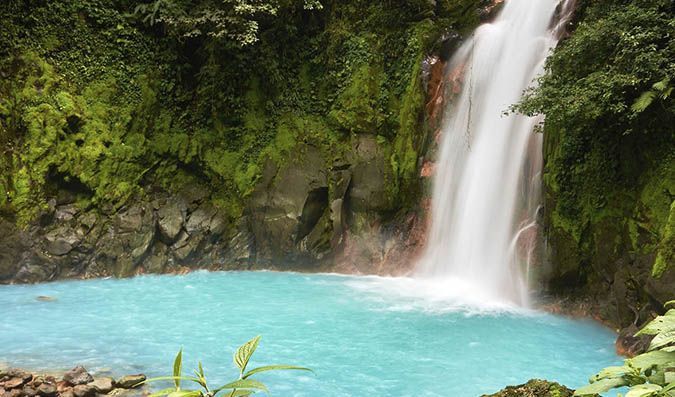 Marvel at the Rio Celeste
One of Costa Rica's gems for vacations is hidden in the Tenorio Volcano National Park. This sky blue river is a wonder to behold. You can hike through the national park and see different parts of the river, including the beautiful waterfall and the union of two rivers that create this particular shade of blue.

The Rainforest from above
Riding Rainforest Adventure's tram will allow you to enjoy the most beautiful and mesmerizing views of the Costa Rican Rainforest. It is perfect for people who don't enjoy hiking but wish to explore the tropical jungle.  Rainforest Adventures Park on both the Caribbean and Jaco sites provide you with guides to help you point out the fauna and flora!

Whale Watching
Marino Ballena National Park is considered one of Costa Rica's most magical places. Low tide allows you to witness how two beaches are divided by a section of sand shaped like a whale's tail. It is such an amazing coincidence that this is the ideal place to watch humpback whales!

Hot Springs in Arenal
Thermal waters have many health benefits you'll be able to enjoy thanks to the Tabacon river. Many hotels have private hot springs that allow you to enjoy your privacy. But you can go to free access part of the river if you wish to hang with the locals.

Pipa Fría after an Adventure
What you'll need after any of these adventures is cold coconut water straight out of the coconut. Vendors have such precision when hacking off the top with a machete. It's super fun to watch.
As you see you have that amazing places if you looking for where in Costa Rica to vacations. Jot down these recommendations and enjoy your Costa Rican Adventure!

Rainforest Adventures creates unique and memorable adventures that inspire a sustainable use of the environment and appreciation of the local culture while making a positive impact on our communities. Featuring locations in the coolest destinations in Central America and the Caribbean