Planning to go on a cruise ship is always exciting since you're preparing to go on a vacation to discover different places around the world. How lucky cruise travelers are!
During this trip, vacationers are literally floating over the sea sailing from one horizon to the next, enjoying thrilling activities and making unforgettable experiences on the ship and once they land on a unique place.
One of the world's top favorite locations to go on a cruise is Jamaica, since this beautiful island has a lot to offer: jaw-dropping landscapes, stunning beaches, and a variety of fun things to do in Jamaica.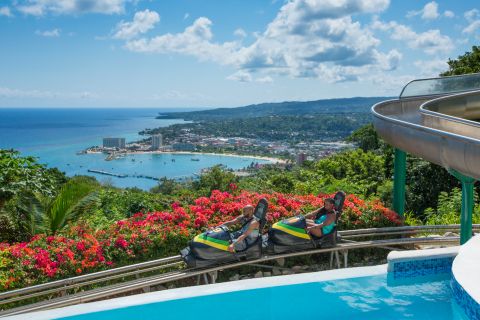 If you're one adventure seeker and you choose to go on a cruise to Jamaica, you'll be lucky enough to experience some of the most exciting activities once you land on one of the 5 main ports we have at Jamaica: Montego Bay, Ocho Rios, Kingston, Falmouth and Port Antonio.
Let your first stop on the island be the start of something amazing. Book a tour at Rainforest Adventures and discover the famous Mystic Mountain, where all of the attractions are cruise friendly, so you can enjoy your stay on Jamaica to the fullest and get back on time to the ship.
The one activity you CAN'T miss if you go to Jamaica: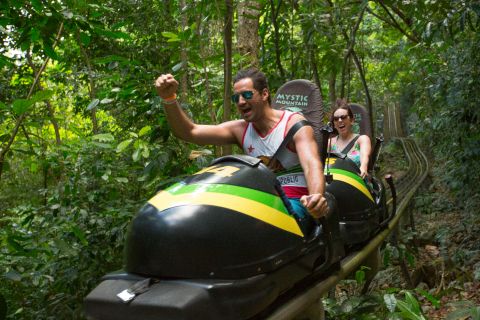 The Bobsled and Dunn's River Falls Tour: First, you get to experience the thrill of twisting down the Mystic Mountain aboard the Rainforest Adventure's unique Bobsled, ranked by TripAdvisor.com as one of the top attractions in Jamaica. Then explore the Dunn's River Falls.
Fly through the top of the trees on the Canopy Zip Line:
Feel the adrenaline rush as you glide through the rainforest, zip lining from platform to platform! Book a ticket here!
You can top this adventure off with a short ride down the Rainforest Sky Lift to the park entrance, and start soaring 700 feet above the Jamaican rainforest!
Get a panoramic view of the Ocho Rios coastline from a Tranopy: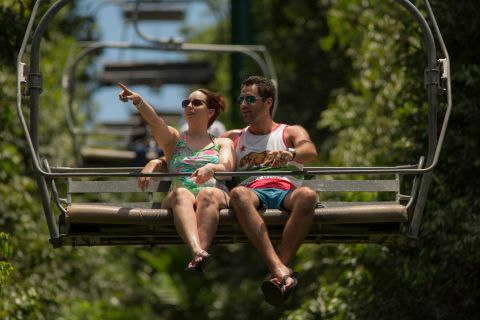 Embark into real ecotourism and explore the Mystic Mountain while you ascend into the mountain top in a tranquil ride.
You'll get a chance to delight with the magnificent views of the Jamaican coastline, the beautiful fauna and the lush rainforest nearby Dunn's River Falls.
There are so many other fun things you can do on your stay at this paradisiacal island, so make sure you check out these things you should know before going to Jamaica!

Rainforest Adventures creates unique and memorable adventures that inspire a sustainable use of the environment and appreciation of the local culture while making a positive impact on our communities. Featuring locations in the coolest destinations in Central America and the Caribbean