Whether you're looking for adventure, fun or sun, there are so many things to do in Jamaica. The choice may be tough because you can find lots of options for every traveler. But I'm here to help you out!
Thanks to Jamaica's diverse terrain – tropical beaches, hidden rivers, wildlife reserves, beautiful mountains and lush forest – tourist who visit Jamaica are lucky enough to have a variety of activities, landscapes and awesome adventures to live their dream vacation.
To narrow it all down, here are the top 10 things to do in Jamaica. You'll definitely have an unforgettable vacation experiencing nature in adventure like never before!
1- Climb your way to the top of the Dunn's River Falls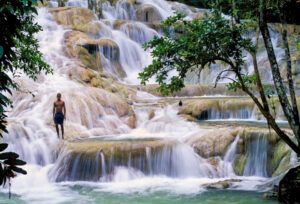 Definitely, a MUST on your visit to Jamaica. Dunn's River Falls in Ocho Rios is 1,000 feet high, and the rocks are terraced like steps. It's called a living and growing phenomenon because it continuously regenerates itself by deposits of travertine rock.
Dunn's River Falls it's a one-of-a-kind in the Caribbean, if not in the world. You won't regret this ecological and beautiful adventure.
This is one of the things to do in Jamaica that welcomes thousands of tourists a year who come for its unique charm, and the challenge of climbing your way to the top. Fun, fun, fun!
Book a tour that offers hotel pick-up and drop off for a more relaxed experience.
2- Feel the adrenaline rush of Ziplining at Mystic Mountain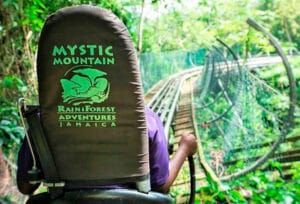 Ziplining is an activity that will definitely level up any vacation. And if you're in Jamaica, you just can't miss the opportunity of seeing the beautiful, tropical scenery while gliding through the rainforest canopy with the wind on your face going from platform to platform!
One of the most exciting things to do in Jamaica for sure!
Book a tour at Mystic Mountain, Rainforest Adventures.
3- Get inspired at the Bob Marley Museum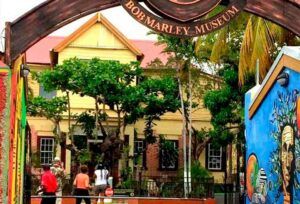 One of the most popular tourist attraction on the island, the home-turned-museum dedicated to the memory of the late Reggae star, Bob Marley.
This museum was actually the residence of the famous musician until the year 1981 and it remains much as he left it.
You can see Marley's gold and platinum records hanging on the walls, and one of his favorite guitars still resting beside his bed!
Also, you may be lucky enough to run into one of his family members who often use the studio where Bob Marley recorded many of his songs! Definitely one of the coolest things to do in Jamaica for music lovers!
Get all the information and details on the tour here at the website of the museum. You can book a tour or buy a tour gift card.
4- Soak up the sun at the Seven Mile River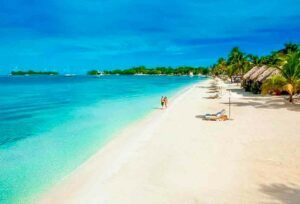 Negril's Seven Mile Beach is Jamaica's most popular beach. And like its name suggests, it has plenty of space for you to find a spot to soak up the sun.
If you're looking for relaxation, you must plan a visit to the Seven Mile Beach, the one with miles and miles of white sand and turquoise waters.
Funny story: American hippies discovered this majestic spot about 30 years ago, and it has been free for visitors to access at any time ever since.
5- Take an exhilarating ride in the Bobsled at Mystic Mountain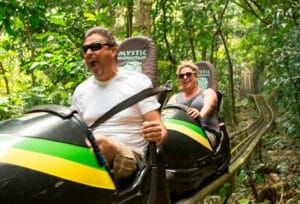 Ranked by TripAdvisor as one of the top attractions in Jamaica, This exhilarating ride was inspired by the famous Jamaica bobsled Olympic team and it's one of the park's signature attraction at Mystic Mountain near the Dunn's River Falls at Ocho Rios.
The Bobsled ride twists and turns 1000 meters through the rainforest!
And there's nothing to worry about, you'll be safely strapped into a custom-designed, high-tech sled and you'll be able to control the speed with a special handbrake and go as fast or slow as you want and get your adventurous-adrenaline junkie to the top.
Get all the details and book a tour in Rainforest Adventures Jamaica here.
If you're a roller coaster lover, you just can't go all the way to Jamaica and not ride the one and only Jamaican bobsled! Cool Runnings!
6- Get lost at the beauty of the Konoko Falls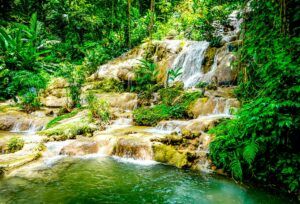 Probably the most picturesque waterfalls you'll ever see. Situated just 5 minutes from the Ocho Rios town center is Konoko Falls, a natural attraction that's very relaxing and intimate.
You can sit back and relax with the soothing sound of the falls, while you can also dip your feet in the little jacuzzi sized swimming pools, or you can also climb to the top and discover a botanical garden, a mini-zoo, and a small museum. Don't forget your camera to capture the beauty of this place.
Get a reservation at their own website here and enjoy one of the most relaxing things to do in Jamaica.
At the Konoko Falls, you can also learn more about the history of the original inhabitants and their culture, the Taino Indians.
7- Swim with dolphins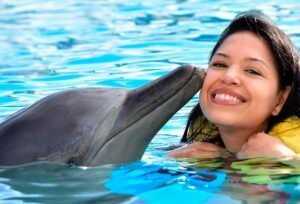 Interact and swim with dolphins in their natural environment. No artificial pools or tanks here! You'll get to enjoy the thrill and beauty of these amazing ocean creatures that are the friendliest mammals you'll ever meet.
The cool thing about this activity is that it's appealing to every age group because you can choose between different levels of interactions, from touching and feeding, to swimming with them.
If you do choose to swim with the dolphins, you can get jetted through the water like a hand-held jet-ski! How cool is that? Just choose between the different parks here and plan your visit.
8- Go Scuba Diving and explore the Caribbean Sea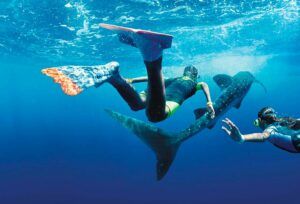 Tropical destinations are known for being great for scuba diving, and Jamaica is no exception. Its crystal clear waters have the corals, shipwrecks and fish that will keep you amazed under the sea.
Get a taste of nature and discover the diverse marine life of the Caribbean! Rent out some snorkeling or scuba diving equipment and dive right into an experience like no other. Look at these many options.
Don't forget to grab a waterproof camera or phone protector to take lots of fun videos and photos! Also, remember to put on sunscreen on your back.
9- Sit back and relax at a calmed Bamboo Rafting experience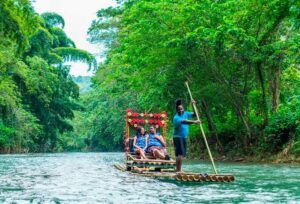 Probably the first thing that comes to your mind when I say "rafting" is: adrenaline- pumping experience. But Jamaicans love to appreciate nature in each activity so they have turned "rafting" into a completely different type of attraction.
Rafting the beautiful 3 miles Martha Brae River is a calm, somewhat romantic experience that you can take on a handmade and comfortable bamboo raft.
Just sit back and relax while a licensed raft captain skillfully navigates the emerald river. You'll be surrounded by colorful birds, beautiful trees and exotic flowers.
10- Take a dip in the hidden gem of Jamaica, the Blue Hole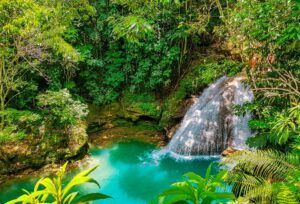 Only exclusive tour companies will offer you a visit to the Blue Hole in Jamaica, this is a must-see for every ecotourism lover.
The Blue Hole is a paradisiacal place that's not commercialized -yet- because it doesn't have an organized track, but it's a hidden gem that's only a few miles up in the hills of Ocho Rios.
Once you get there and see the crystal water of the river, the lush greenery and the exotic plants around you, you won't regret this exclusive site.
This is truly a sight to behold, a breath of fresh air and a special place to visit and admire nature, swimming the cool water and taking breathtaking pictures.
Have you already decided to go to Jamaica? Learn more of the adventures you can do on this beautiful island here. Also, discover the most luxury villas of Jamaican Treasures where you can stay during your visit to the country and turn any vacation plan into an unforgettable one! And the cool thing is that you can get a great deal. Just make sure to check them out.

Rainforest Adventures creates unique and memorable adventures that inspire a sustainable use of the environment and appreciation of the local culture while making a positive impact on our communities. Featuring locations in the coolest destinations in Central America and the Caribbean